THE SIREN OF ST. ANDREWS – A Conversation with Ashley Feller of The St. Andrew's Jezebel Podcast
by Rob Perez

"Ashley Feller is a complicated person."
When asked, "Who is Ashley Feller?" this was the first in the series of responses I received. Thus far, the only complications we've run into was scheduling this sit-down. From performing all over the Gulf Coast to hosting her own podcast, Ashley Feller is creatively busy, to say the least. Continuously honing her craft wherever that wind takes her? Certainly. Charitable? Absolutely. But complicated?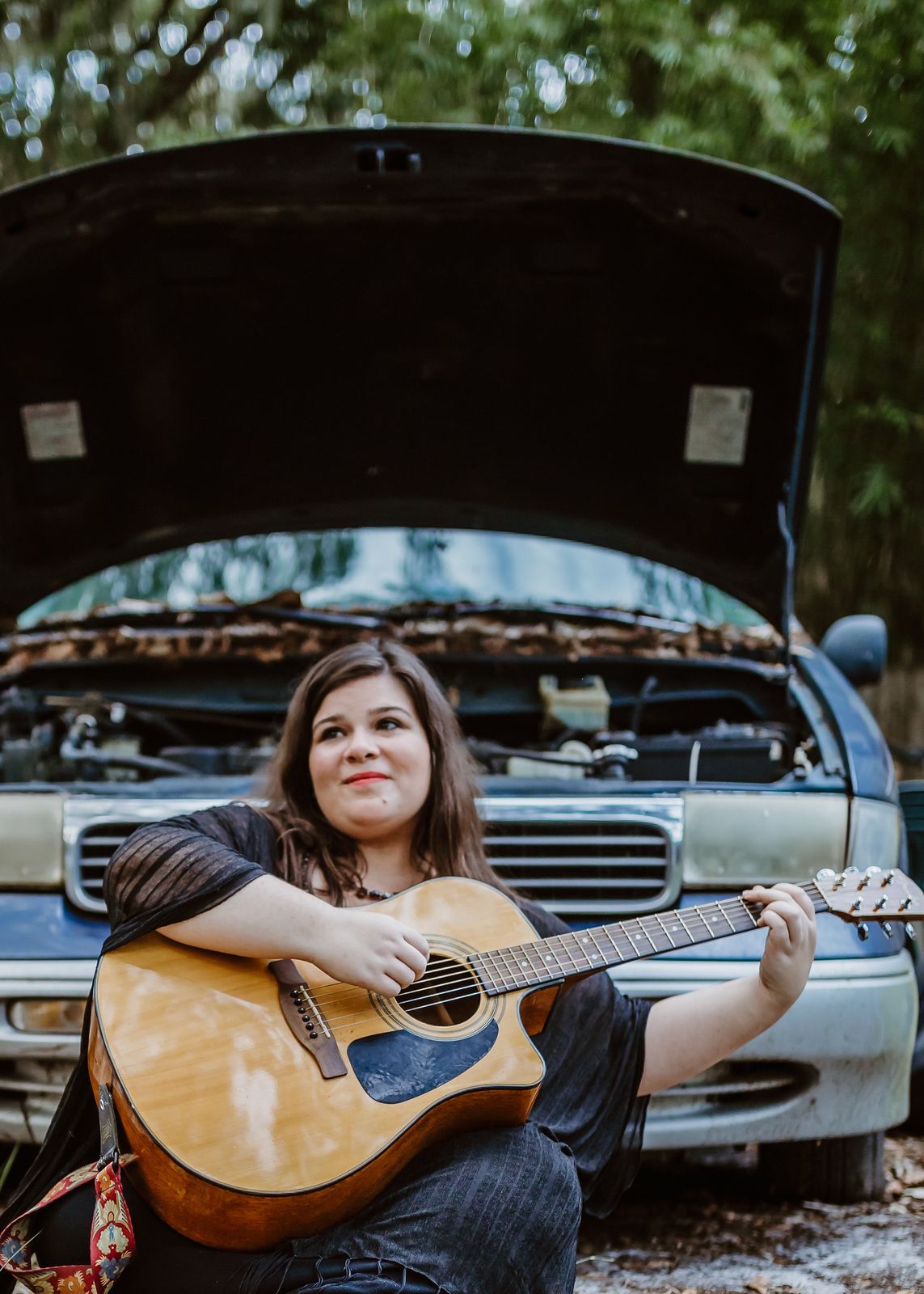 "I'm an introvert. I would say there's a bit of masking involved. Not a complete false persona…but I do have to step out of my shell forcibly to be the performer I want to be," she replies with a laugh. Complicated indeed, given everything she's had her hand in over the past few years.
Ashley Feller is oft known for being a part of one of South Walton's favorite bands The Sweater Puppets, as well as her own brand of folksy singer-songwriter material. More recently, she is known as the sole owner and operator of the St. Andrews Jezebel Podcast – a Panama City-based podcast focused primarily on historic area of St. Andrews.
St. Andrews has become something of a local and regional artist haven. Particularly in the wake of the devastation from 2018's Hurricane Michael and the pandemic-fueled times that are ongoing today – and Feller is keeping the podcast's spotlight on that perseverance. "Seeing St. Andrews rebuilt in real-time and sharing what it feels like to have survived a natural disaster… We're definitely growing and there's a lot of people getting curious," says Feller.

RP: Tell us a little bit about you. Who is Ashley Feller outside of the singer-songwriter circuit and podcast host?
AF: Well, I've always loved playing music. My dad and I – I grew up playing music together with him. I worked in education for a while, I've worked in a group home…and over time, I've gradually learned that I don't like working for other people. (laughs) I really like working for myself. So, I told myself long ago, "I'm going to find SOMETHING." Even if it's a lot of small somethings that add up to an umbrella of one big thing, I'm gonna find a way to be self-employed. Whether that's writings songs or performing or some kind of broadcasting, I'm going to find a way to work for myself.
How did we get from that point to the podcast?
I'm playing music for a living, but I started the podcast mainly as an outlet to learn audio engineering. I was thinking "Let's start with spoken word, and then maybe I can progress to music." I had a friend who is a Floriopolis (an art gallery within St. Andrews) volunteer donate some recording equipment…and I basically made a pact with myself that I'm going to learn how to use this stuff AND I'm going to do so in a way that serves the community.
Tell us about the name. How did you come up with the name "The St. Andrews Jezebel Podcast?"
It got its name from a song I wrote! I have a song that's called 'St. Andrews Jezebel'…I wrote this song back when I was working in the group home. So, most of the time, I would get off at 10 o'clock at night, I didn't want to go home…so I would go to the only place open late at night where there were people – the local dive bar. I was trying to meet someone who could draw up a tattoo design, but I ended up meeting this young lady instead. And she was just such a character that I felt the need to write a song about her. That's where the title of the song came from. So, when the podcast became a thing, I needed an easy title. (laughs) I thought 'maybe I'll rename it eventually'…but folks actually have embraced the title and I have too over time.
And now you're 50 episodes in. How are you liking it so far?
It has been one of the greatest learning experiences, not just from an audio production standpoint but for overall human behavior.
You mentioned serving the community. I see you have fellow singer-songwriters on, but also members of the community who are really trying to enhance Panama City for the better. What's been some of the highlights for you within that?
I love the people that I've met along the way. Interviewing people every week has basically forced me to come out of my shell because I am an introvert. I'm all of a sudden in a situation to ask people – total strangers sometimes – a LOT of questions about their craft and why they do what they do and really what makes them tick. There's a whole lot of people that I've met because of this podcast that I never would have met otherwise.
Not to put you on the spot, but who would you say would be your top 3 in terms of people you never would have guessed would've been an amazing podcast guest?
I would say my first guest is number one! Her name is January Johnson, and she is a lot of things (Episode 16). She's an AirBNB hostess, she's also way into grant writing – just a good person to meet. I don't think I ever would've met her otherwise. Another one…he's more of a regional performer, but that's Joseph Brooks (Episode 33). He's a young man from lower Alabama, but he wanted to be on the podcast. I said "Sure! You play locally, you're consistently putting into our local community…I'd love to have you on the show." It was excellent having him. We're both gigging musicians, we're always playing at the same time, so had it not been for the interview, we probably wouldn't have met. A third one? I would say Ben Liggin (Episode 19). He has an archeology museum and Native American store in St. Andrews. Not that I don't have an appreciation for archeology or Native American history…I just never took the time to venture into his shop and now, because of the podcast, I have and am ever the more happy that I have.
It really opens you up to new experiences.
Absolutely.
So, again, you're 50 episodes in – which is a feat, no doubt. Looking to the next 50, do you have any plans for expansion a little bit more outside of St. Andrews? Or are you thinking that there's still more work to be done?
My main mission is to keep this as local as possible. There are so many wonderful podcasts and publications that specialize on national and international coverage, so I would like to mainly keep this hyper-focused just on this one tiny little place, the artists that live there, and what they're doing. Now, I am planning on adding different types of content. I've got a YouTube video series that – it kind of unintentionally got put on the back-burner, there's only so many hours in the day and I am a one-person operation (laughs) –  is essentially a field recording showcase of different singer-songwriters within the Bay County region performing in their natural setting. I've considered also bonus episodes as well, micro-podcasts….things like "The Top 5 Hamburgers in St. Andrews," things like that.
That would be cool, especially for people who don't really know the area too well.
There's literally something to do every day in St. Andrews. Including Mondays, which is remarkable to me. We have a music showcase called Monday Night Little Fest. It's a step up from an open mic; it's maybe 3 to 5 musicians playing for 30 minutes each, playing originals, covers…it's just a communal experience.
That right there – the communal experience, that growth into family – seems to be the spirit of St. Andrews.
It's just awesome.
Learn more about Ashley Feller on her official website: www.ashleyfellermusic.com
New episodes of the St. Andrews Jezebel Podcast premiere every Thursday everywhere you get your podcasts. For more info on the podcast, visit facebook.com/TheSt.AndrewsJezebelPodcast
Ashley Feller's latest album – 'Old Blue, Rage Against the Van' – is currently available everywhere digital music is streamed and downloaded.